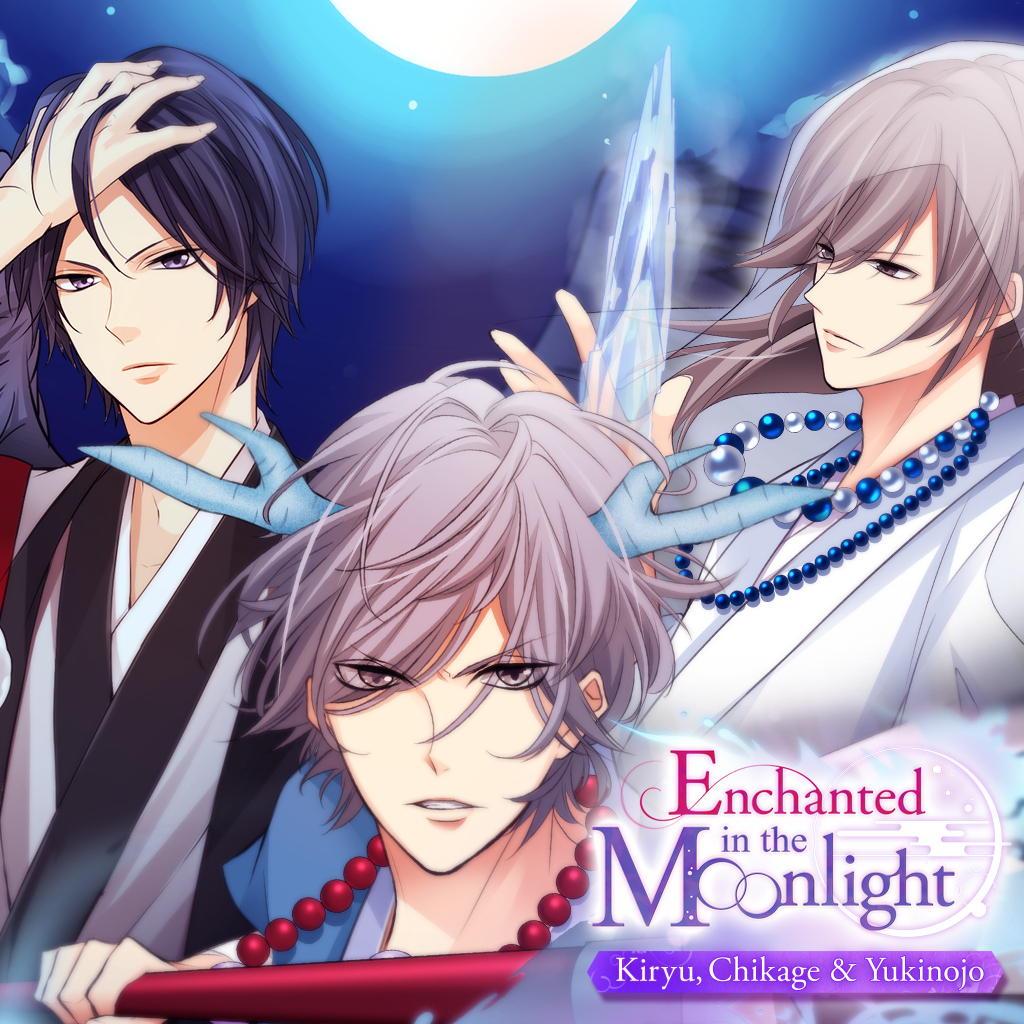 Voltage
Enchanted in the Moonlight - Kiryu, Chikage & Yukinojo -
13 juin 2019
13 juin 2019
17.92€
One day you're attacked. Otherworldly ayakashi want your power. "We'll protect you, human." But in return... You must offer your power to one of us.

16.36€
「お前のカラダと引き換えに、一生護ってやる」

Joueurs :
1
---
Pays
Prix
Status
Japon
16.36€

1980.00 JPY

Disponible
Canada
17.06€

24.99 CAD

Disponible
Etats-Unis
17.92€

$19.99

Disponible
The Story
You're an average, 25-year-old girl whose life consists of working at the local library, keeping up your family's shrine, and not much else.
However, that all changes when gorgeous men save you from mysterious, malevolent forces!
These men aren't all they appear to be, though. They're actually Ayakashi Spirits!
You discover that your blood is imbued with an ancient power, one that the spirit world covets, and these handsome strangers are willing to protect you... for a price, that is.
Are you ready to make a deal with these otherworldly creatures?
■ストーリー
実家の神社は継がず、図書館で司書として働く平凡な25歳のヒロイン。
ある日を境に、悪妖に襲われるようになるが、間一髪のところでイケメンに助けられる。
しかし、彼もまた妖狐だった!?
特別な血をひくヒロインは、妖怪に大きな力をもたらす為、命を狙われていると聞かされ、
「護ってやる代わりに、お前のカラダをよこせ。それが契約だ」と言われる。
こうして、妖怪との契約をすることになったヒロインは…。

■キャラクター
綺龍(冷酷エリート龍)
千影(クールな天狗)
雪之丞(ミステリアス雪男)

■収録内容
読み物アプリ『100シーンの恋+』内の本編シナリオを収録。
本編プロローグ
本編
本編カレ目線
本編エピローグ
続編
続編カレ目線
続編エピローグ
愛の巣編プロローグ
愛の巣編
愛の巣編エピローグ
揺れる編
揺れる編エピローグ
恋の柵編プロローグ
恋の柵編
恋の柵編エピローグ
婚姻編

*婚姻編は綺龍のみ収録
Historique des prix par pays
Les informations de cette page ne sont qu'à titre informatif et ne comportent aucune garantie quant à leur exactitude.