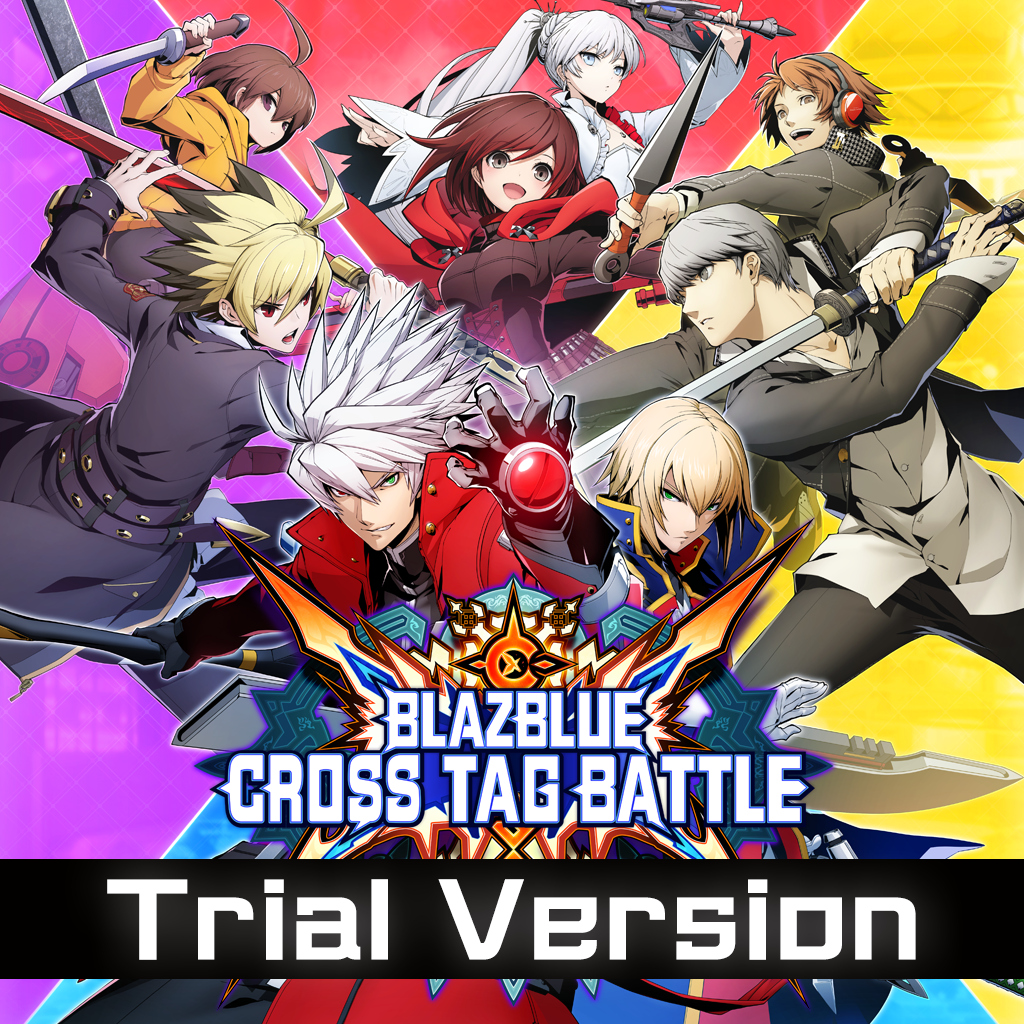 ARC SYSTEM WORKS
BLAZBLUE CROSS TAG BATTLE SPECIAL TRIAL
0.0€
THE COLLISION IS INEVITABLE! THE IMPACT WILL BE UNAVOIDABLE!

0.0€
人気作品のヒーロー&ヒロインが一堂に会する夢のクロスオーバー プロジェクトがついに開幕!

Joueurs :
1 2@
---
Pays
Prix
Status
Mexique
Gratuit
Disponible
Etats-Unis
Gratuit
Disponible
Japon
Gratuit
Disponible
Get ready to create your own dream-team and take on opponents from four different franchises, with Arc System Works' BlazBlue Cross Tag Battle. This demo is available for anyone to download.

For more information on when Network Modes will be available, please visit: WEBSITE

An unrivaled clash of explosive proportions! The beloved BlazBlue franchise Crosses universes, Tags in fan favorites, and Battles it out in BlazBlue: Cross Tag Battle! Created through an all-star collaboration between BlazBlue, Atlus' Persona, French Bread's Under Night In-Birth, and Rooster Teeth's hugely popular RWBY web series, Cross Tag Battle celebrates the fighting genre for pros and newcomers alike!

• CROSS Cross over between 4 different universes! Play as characters from the BlazBlue, Persona, Under Night In-Birth, and (for the first time ever in a fighting game), RWBY series!
• LOOK GOOD DOING IT High definition anime styled 2D characters alongside beautiful 3D backgrounds and smooth animation brings the game to life!
• ARC ASSEMBLED Developed by Arc System Works, creators and developers of critically acclaimed and fan favorite fighting series BlazBlue and Guilty Gear.

BlazBlue, celebrating 10 years of fighting game excellence in 2018, is a series long beloved by the fighting game community for its deep and engrossing story, its vast cast of balanced characters, and its quick and kinetic gameplay style.

Atlus' Persona series, a worldwide RPG phenomenon and no stranger to the fighting game genre itself. Persona characters have appeared in Arc System Works games before, notable Persona 4 Arena and Persona 4 Arena Ultimax.

Under Night In-Birth is veteran fighting game developer French Bread's first foray into an original title, coming hot off the heels of their success with the cult classic series Melty Blood.

Rooster Teeth's animated mega hit, RWBY, has been a popular franchise for years, crossing both gender and age barriers to become a mainstream hit. Characters from the RWBY series have never appeared in a fighting game before. Until now.
アークシステムワークスが革新的で質の高い作品を多く開発し定評のあるジャンル『対戦格闘ゲーム』新プロジェクトとして始動した、未だかつて誰も想像をしなかった夢のタッグバトルを楽しむ事が出来る2D対戦格闘ゲームで、誰でも遊べる特別体験版です。
ネットワークモードの開放はオープンβテスト期間限定のため詳細に関しては公式HP(http://www.blazblue.jp/tag/)をご覧ください。

■オープンβテスト実施期間
5/11(金)16:00~5/14(月)24:00
※実施期間に関しては変更になる場合がございます

■使用可能キャラクター
・オープンβテスト期間中
後日配信されるDLC を除く20 キャラクター
・オープンβテスト終了後
「ラグナ=ザ=ブラッドエッジ」「鳴上 悠」「ハイド」「ルビー・ローズ」の4キャラクター

■遊べるモード
・カジュアルロビー(オープンβテスト終了後はプレイできません)
・タクティクスモード(基本編・応用編のみ)
・VSモード(CPU戦)
Les informations de cette page ne sont qu'à titre informatif et ne comportent aucune garantie quant à leur exactitude.