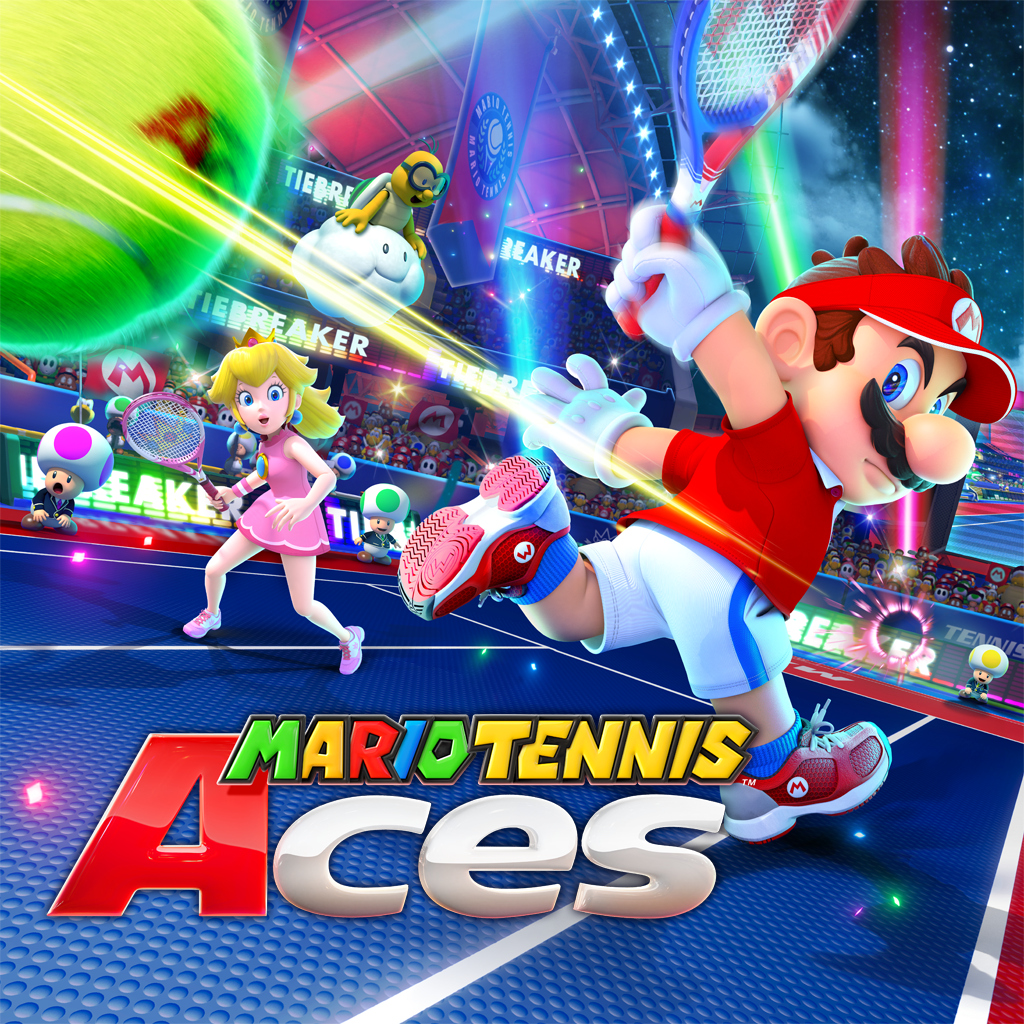 Mario Tennis™ Aces
22 juin 2018
22 juin 2018
22 juin 2018
59.99€
A brand new Mario Tennis game is bringing a new level of skill and competition to Nintendo Switch: Mario Tennis Aces!

Joueurs :
1-4 2-4L 2-4@
53.95€
Up your game with Zone Speed and Zone Shot


Joueurs :
1-4 2-4L 1-4@
---
Boutique
Titre
Prix
Amazon
Mario Tennis Aces - Import anglais, jouable en français
42.99€
Amazon
Mario Tennis Aces Standard
42.99€
Fnac.fr
Mario Tennis Aces
42.99€
Pays
Prix
Status
Australie
49.44€

79.95 AUD

Disponible
Nouvelle-Zélande
53.39€

89.95 NZD

Disponible
Etats-Unis
53.95€

$59.99

Disponible
France
59.99€
Disponible
Mario steps onto the court in classy tennis garb for intense rallies against a variety of characters in full-blown tennis battles.

New wrinkles in tennis gameplay will challenge your ability to read an opponent's position and stroke to determine which shot will give you the advantage.

And this time the game adds the first story mode since the Mario Tennis: Power Tour game on Game Boy Advance, offering a new flavour of tennis gameplay, with a variety of missions, boss battles and more.
Unleash an arsenal of shots and strategies in all-out tennis battles with friends, family, and fan-favorite Mushroom Kingdom characters. Whether you play locally,* online,** or using simple motion controls, intense rallies await! In Adventure mode, experience a new favor of tennis gameplay, with a variety of missions, boss battles and more.
Complete missions and boss battles in Adventure mode while mastering the controls. Test your hard-earned skills in singles or doubles with up to 4 players in local* or online** multiplayer, not to mention Tournament Mode, which lets you challenge the CPU. Store up energy and use it to pull off amazing feats: move so fast the world slows down around you or aim in first-person to send the ball crashing down! Your rivals may attempt to block you, but if they fail, their racket will take damage—and break after three hits. Fully charge your energy to launch the ball with enough force to KO your opponent!

Rally against other players in singles or doubles as one of 15+ Mushroom Kingdom characters
Serve up everything from basic shots to trick shots to split-second blocks
Use energy to leap after the ball, slow down time, aim in first-person, break rackets, and KO opponents!
Play locally,* online,** or swing your Joy-Con™ controller like a real racket in Swing Mode
Take on CPU opponents in the Mushroom Cup, Flower Cup, or Star Cup in Tournament Mode
Adventure mode offers a new flavor of tennis gameplay, with a variety of missions, boss battles and more.
「マリオテニス」最新作では、テニスシステムが一新!
ねらいを定めてピンポイントに球を打ち込む新ショット「ねらいうち」や、遠くを狙われた球に追いつく「加速」、究極の一撃「スペシャルショット」など、様々な新要素が加わったことにより、より奥深い駆け引きが生まれるようになりました。

また、ジョイコンを振って様々なショットを直感的に打ち分けて遊ぶ「スイングモード」、ミッションへの挑戦やボスとのバトルなどのひと味違ったテニスが楽しめる1人用の「ストーリーモード」も収録。

Nintendo Switchのあらゆるプレイモードに対応し、いつでもどこでも誰とでも、白熱のテニスが楽しめます。本体を持ち寄ってのローカル通信対戦はもちろん、インターネットに繋げば、全国のフレンドやライバルとの対戦も可能です。
Egalement disponible via
Historique des prix par pays
Les informations de cette page ne sont qu'à titre informatif et ne comportent aucune garantie quant à leur exactitude.