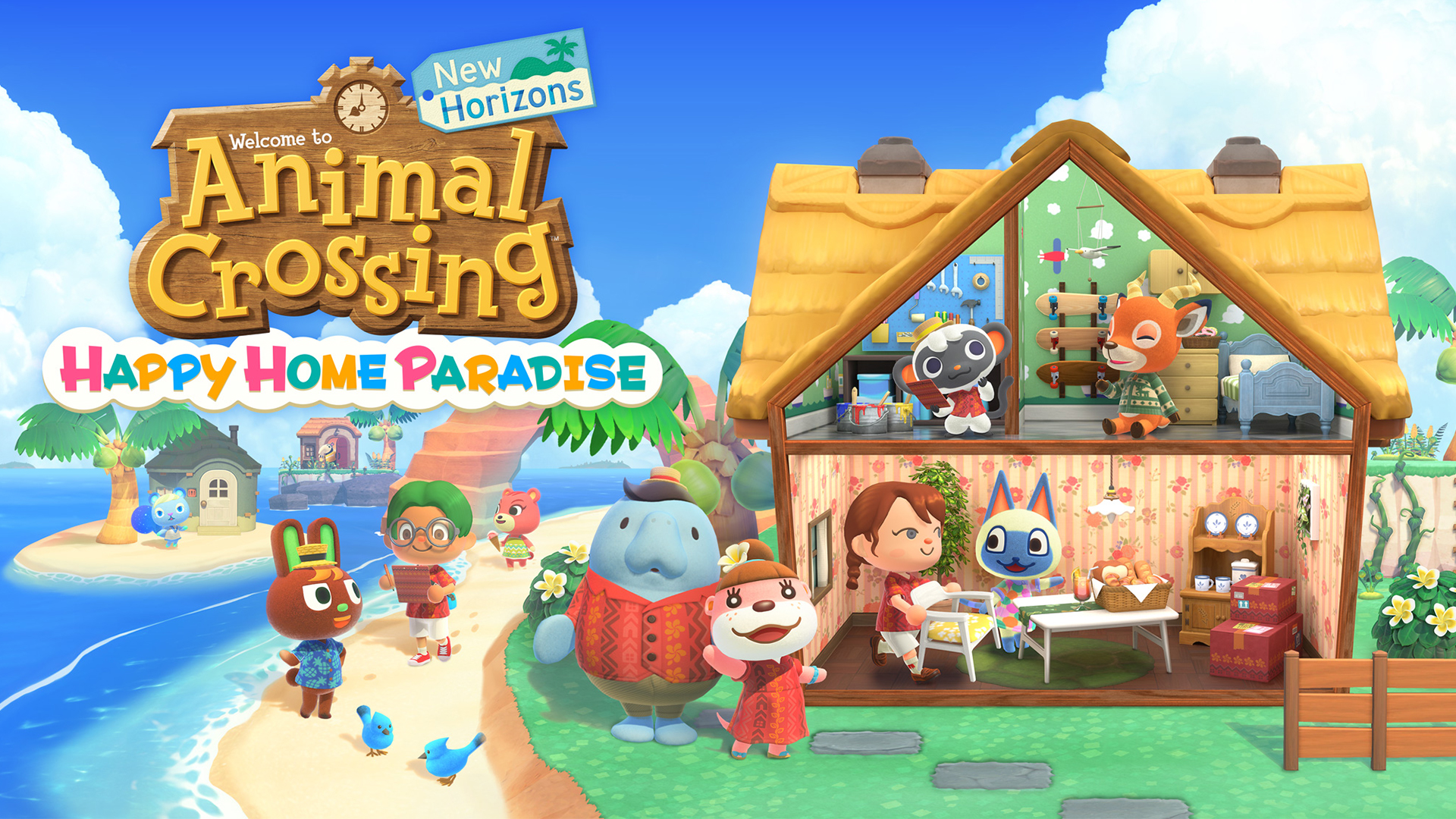 Animal Crossing: New Horizons – Happy Home Paradise
5 nov. 2021
5 nov. 2021
5 nov. 2021
24.99€
Les Villas de Lou ont besoin de vous !
22.98€
Expand your horizons and help create vacation homes for clients on all-new resort islands
17.7€
どうぶつたちの理想を叶える別荘づくり。コーディネートスタッフ募集中!
---
Pays
Prix
Status
Japon
17.70€

2500.00 JPY

Disponible
Pologne
21.24€

100.00 PLN

Disponible
Canada
22.75€

32.99 CAD

Disponible
France
24.99€
Disponible
Laissez parler votre créativité et donnez forme aux villas de vacance dont rêvent vos résidents préférés dans Animal Crossing: New Horizons – Happy Home Paradise, disponible en tant que contenu additionnel payant pour Animal Crossing: New Horizons.
Join Lottie's Paradise Planning team and travel to a distant group of beautiful resort islands with a diverse set of landscapes. This time, you are in charge of inviting characters as clients and helping them live out their own dream vacations. Choose from a variety of islands, with different terrain and climates and find one that matches your client's vision. Then start designing and start making their vacation dreams come true. Just wait until you see the look on your clients' faces after you reveal the vacation home decorated just for them.

Add personalized touches to your client's resort island

Customize everything from home exteriors and interiors, the yard and even customize the weather to either be sunny or rainy. Handpick the picture-book spot for your resort creation and use the Paradise Planning team's expansive inventory to deck out vacation homes without being limited to your own inventory, recipes, or resources. The editing tools make decorating a snap! It's a breeze to go back and redecorate as you like, so change and rearrange to your heart's content.

As you design more vacation homes for your clients, facilities like cafes and schools around the Paradise Planning office will open up. Decorate these into inviting locales, choose roles for different characters, then watch your clients spend time together. Why not stop by and check in to see how things are going in paradise?

You can up your design game on your own island, too! Design options that you acquire while working as a Paradise Planning team member can be used on your island as they become available. Build partition walls and pillars, set the mood with lighting, and add soundscapes to both your residents' homes as well as your own.

Share your masterpieces with friends

Take in-game photos of your designs and add them to your portfolio. Show them to other characters and you may get more requests to create vacation homes! Share the photos with other players using the in-game Showroom* in the Happy Home Network app and they can tour your personally-designed resort islands or go tour theirs for some relaxation and inspiration.
『あつまれ どうぶつの森 ハッピーホームパラダイス』は、『どうぶつの森』シリーズの大きな魅力のひとつ「家づくり」をとことん楽しめる『あつまれ どうぶつの森』の有料追加コンテンツです。
リゾート地で別荘建築を手がける「タクミライフ」のスタッフとなり、どうぶつたちの別荘を作ります。理想の暮らしのテーマを聞いて、地形選びや内装、家の外観、庭など、まるごとコーディネートし、素敵な別荘を作りあげましょう。
経験を積むことで、仕切り壁やライト、環境音、部屋の広さの調節など、内装をアレンジするさまざまな技術が身についたり、一つの家に2人のどうぶつで暮らす「ハウスシェア」など、暮らしのスタイルの提案もできるようになります。
更には、学校・レストランなど、大きな施設の設計にチャレンジすることも。

自分の手がけた施工事例は、「ツクッター」を通じてインターネット上で公開したり、他の人が公開している事例を見学しにいくこともできます。
※Nintendo Switch Online(有料)への加入が必要となります。

本作は「amiibo(どうぶつの森シリーズ)」に対応しています。特定のどうぶつを呼び出して別荘を作ったり、作った別荘に招待したりすることができます。amiiboを使えば、「たぬきち」「しずえ」など、通常はリゾート地を訪れることがないどうぶつたちの別荘も作ることができます。

※Nintendo Switch本体の1つの島に、複数人で住んでいる場合、島に住む誰かが『あつまれ どうぶつの森 ハッピーホームパラダイス』を購入すれば、島に暮らす全員が、それぞれ別のセーブデータで遊ぶことができます(購入されたアカウントの「いつも遊ぶ本体」で遊ぶ場合に限ります)。
Historique des prix par pays
Les informations de cette page ne sont qu'à titre informatif et ne comportent aucune garantie quant à leur exactitude.