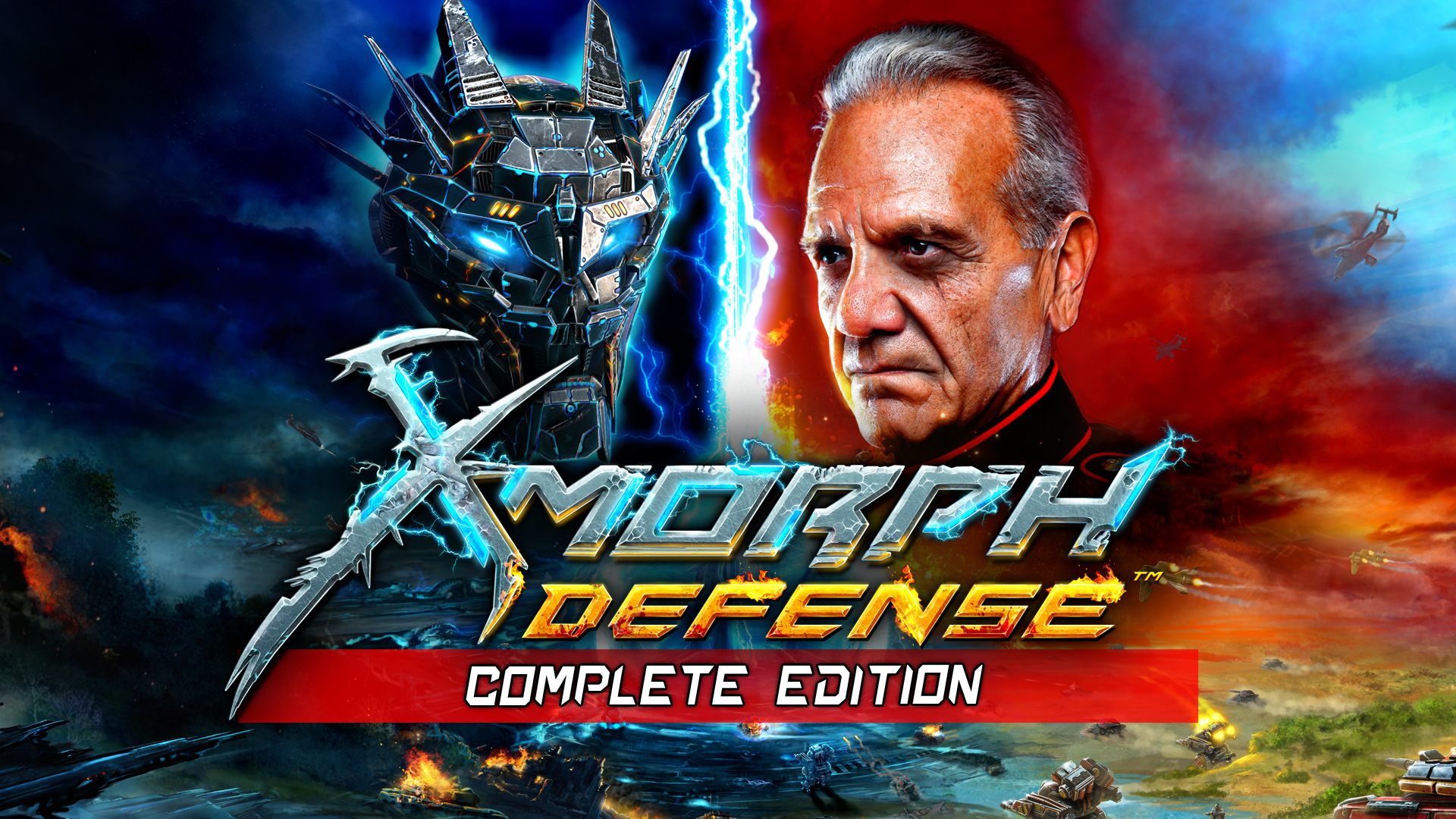 EXOR Studios
X-Morph: Defense Complete Edition
21 févr. 2019
21 févr. 2019
29.99€
X-Morph: Defense Complete Edition contient : le jeu de base X-Morph: Defense, le DLC European Assault, le DLC Survival of the Fittest, le DLC Last Bastion.
25.28€
X-Morph: Defense Complete Edition includes: X-Morph: Defense core game, European Assault DLC, Survival Of The Fittest DLC, Last Bastion DLC.
---
Pays
Prix
Status
Afrique du Sud
20.24€

389.00 ZAR

Disponible
Russie
23.22€

2099.00 RUB

Disponible
Mexique
23.40€

579.00 MXN

Disponible
France
29.99€
Disponible
Quand le shooter à défilement vertical rencontre le tower defense. Vous incarnez les X-Morph, une espèce extraterrestre bien décidée à voler les ressources de la Terre. Sélectionnez les différents types de tours extraterrestres dans le mode construction, ou jetez-vous dans la bataille ! Construisez des labyrinthes pour piéger l'ennemi dans un décor aux possibilités stratégiques infinies. Détruisez les immeubles et les ponts pour consolider votre défense, ou juste pour le plaisir des yeux !

X-Morph: Defense European Assault
Ce DLC contient une mini-campagne narrative se déroulant sur le front européen. L'action se passe en même temps que la campagne principale et se concentre sur les forces européennes dans la lutte contre l'invasion X-Morph. Semez le chaos à travers la Finlande et les Pays-Bas avant de conclure votre aventure dans une bataille épique et destructrice au-dessus de la Tour Eiffel. Les forces européennes utilisent des armes expérimentales qui vont vous forcer à improviser de nouvelles tactiques.

X-Morph: Defense Survival Of The Fittest
Une nouvelle campagne pour le mode survie proposant 5 cartes spécialement conçues.
ANGLETERRE - Restez en vie dans ce labyrinthe de canaux et de chaumières battu par des fortes pluies.
FINLANDE – L'hiver est déjà là, mais le froid n'est pas votre principal problème.
AFRIQUE DU SUD – Le ciel de nuit n'attend que d'être éclairé par des explosions sans fin.
PAYS-BAS – Survivez aussi longtemps que possible dans ce paysage idyllique.
FRANCE – Un labyrinthe urbain transformé en cimetière.

X-Morph: Defense Last Bastion
Ce DLC inclut une nouvelle campagne narrative qui enverra le joueur à travers le monde. Les événements se déroulent sur quatre îles, chacune ayant des fonctionnalités uniques. Découpez des baobabs sur Madagascar, évitez les moaï de l'île de Pâques, modifiez l'environnement en Indonésie et essayez de ne pas fondre dans les rivières de lave d'Islande. 4 nouveaux types d'ennemis sont également inclus, assurant qu'X-Morph: Defense vous propose la fin que le jeu mérite.
You are the X-Morph - an alien species that invades Earth to harvest its resources and terraform the surface. Strategize in the build mode by carefully selecting various types of alien towers or throw yourself right into the heat of the battle. Build mazes for incoming enemies in an environment that provides exceptional planning freedom. Tear down buildings and collapse bridges to support your defense or to simply indulge in a spectacle of unprecedented destruction. Possess a range of unique alien weapons and use defense strategies as you've never seen before in this genre.

About European Assault DLC:
European Assault is a brand-new mini-campaign that takes place parallel to the main story and will see players wreak havoc across Finland and Holland before concluding in an epic, destruction-fuelled showdown at the Eiffel Tower in France.

About Survival of the Fittest DLC:
Survival of the Fittest expansion pack contains 5 maps created with the challenges of the Survival mode in mind:
- BRITAIN - Fight an endless enemy assault in a rain-soaked maze of cottages and canals.
- FINLAND - Winter is already here, but it's not the cold that is your worst enemy.
- SOUTH AFRICA - A dense night is waiting to be lit up by countless enemy explosions.
- NETHERLANDS - Survive as long as you can in this seemingly idyllic landscape.
- FRANCE - A city labyrinth that is about to become a graveyard full of metallic corpses.

About The Last Bastion DLC:
The Last Bastion is the last piece of the X-Morph: Defense saga, featuring the last battles with the remnants of the human forces in the farthest reaches of the globe. The players will visit such places as Iceland, Madagascar, Indonesia, and the Easter Island in their efforts to eradicate all the focal points of human resistance.

Key Game Features:

TOWER DEFENSE
- Build your towers anywhere on the map.
- Destroy obstacles, collapse buildings and bridges to change enemy paths.
- Connect towers with laser fences that block enemy movement.
- Smart enemies - there are no predefined enemy paths. Enemies adapt to the changing battlefield and your tower placement, making the challenge a lot more interesting.
- Advanced tower types - different kinds of enemies require different defense strategies. Build advanced towers to counter special enemies.

SHOOTER
- Don't wait for your enemies - engage them directly with the X-Morph fighter.
- Morph into four distinct fighter forms, each one with a different weapon and special ability.

HUMAN MECHA
- Fight huge, building size, mechanical war machines. Each boss fight is unique and heavily influences the gameplay environment. Entire cities will be destroyed.

SINGLE PLAYER STORY CAMPAIGN
- take over the Earth by invading locations all around the globe including South Africa, Russia, USA, Japan, China, Britain, Argentina, and other countries
- upgrade your towers and abilities throughout the course of the story campaign.
- four difficulty modes.

SURVIVAL CAMPAIGN
- repel endless enemy attacks
- grow in strength as the game rewards you with upgrades after defeating each wave
- employ new strategies, reacting to dynamic enemy paths

TECHNOLOGY
- X-Morph: Defense is powered by EXOR Studios' proprietary Schmetterling game engine.
- Dynamic building destruction system. Every building in the game can be destroyed piece by piece. Realistic physics simulation makes every destruction scenario unique.
Contenu du bundle
Historique des prix par pays
Les informations de cette page ne sont qu'à titre informatif et ne comportent aucune garantie quant à leur exactitude.